How to Make Your Home Smart
Thanks to cool and innovative technology, you can now control functions like temperature, music, and security systems all through an app. Smart devices continue to revolutionize how we live and help us to achieve better lifestyles. It is estimated that the world will have more than 73 million smart homes by 2021. Other than work, most people spend the majority of their time at home. By gradually implementing home automation, you can drastically improve many aspects of your home life as well as save your time, money, and energy. Here are a few easy ways to make your home a smart home.
---
Secure your home
When it comes to smart security devices, there's a whole world to choose from. There are video surveillance devices, smart locks, doorbells that include motion sensors and built-in cameras, outdoor motion lights, and smart home security kits. With an automated system, you can control them from anywhere, limit access to specific areas in your home and be notified if there is a problem even when you're not there. There are many sites that review home security systems available for smart homes, which you can look through and compare devices that best fit your needs.
Go Green with Home Solar Power
Going solar is one of the best ways to help save the environment and get clean, sustainable energy. Going solar is particularly advantageous because there are a variety of federal and state incentives for those who install. Generating your own electricity means that you will be using less from the utility supplier. This will immediately translate to savings on your energy bill. Plus, you can also make money by selling the unused electricity, which you have generated, back to the grid.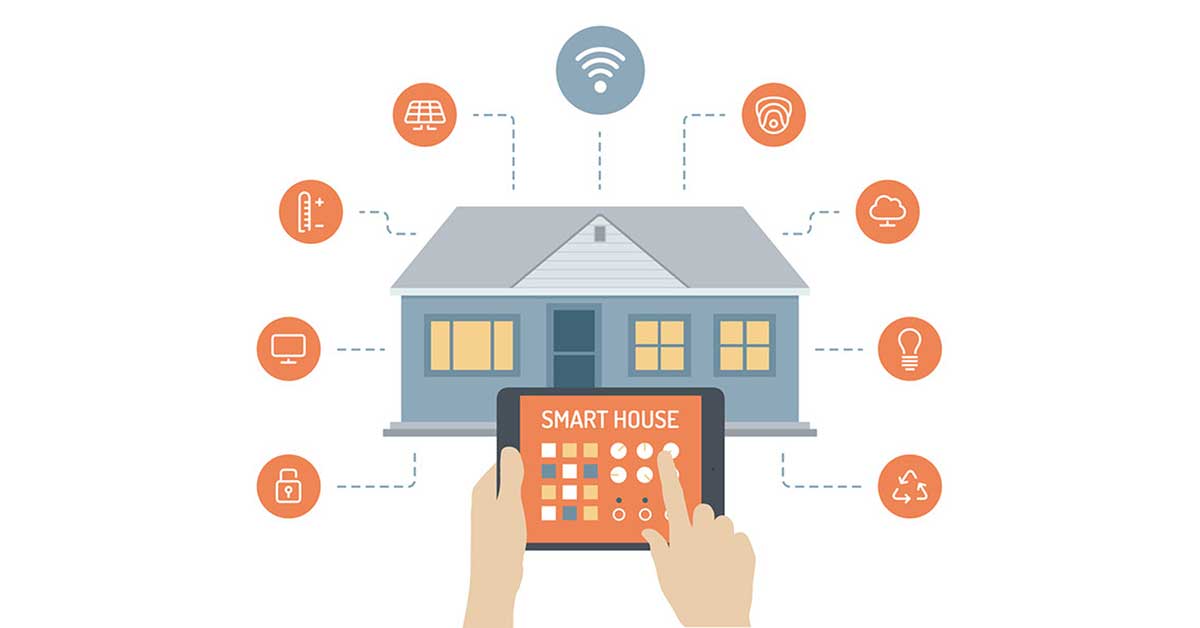 GET IN TOUCH WITH SOLAR EXPERTS
Smart lighting
For most people interested in living in a smart home, lighting is the entry point. Smart lightbulbs that can be controlled with the touch of a button on a computer or a smartphone can really change the mood and vibe of a room. There are the essential functions; brightness control, changing bulb color, turning them on and off and lighting up rooms to the sound of your voice. Now you can turn on the kitchen light from your bed.
Increase safety from gases and smoke
Conventional smoke and carbon monoxide detectors are inherently dumb devices. Their alarms might be loud, but if no one's home to hear them, what good do they accomplish? Smart smoke/carbon monoxide detectors improve upon the standard detectors by sending clear warnings both from the device itself and to the smartphones of your family members or roommates. The cost of smart carbon detectors are fairly inexpensive. You can make your home smarter without breaking the bank!
Smart Thermostat
This is one of the best investments you can make in your burgeoning smart home. According to research by Michigan state university, smoke inhalation is the most common cause of death in home fires. Therefore, a smoke detector that can not only swiftly detect problems but also clearly notify by using clear spoken messages and sending notifications to your smartphone.
Entertaining with Smart Home
Binging through Netflix just got even easier. A smart television is an easy point of entry into the world of smart devices, and the set-up only takes a few minutes. Smart TVs are designed to connect to your home Internet, either via Ethernet connection or wirelessly. From there, you're able to enjoy an entertainment experience unlike anything else by downloading the appropriate entertainment apps.
Smart home assistant
The first and most important step to making your home a smart home is to get a smart home digital assistant. The two best smart home assistants are the Amazon Echo (with Alexa) and Google Home in the form of smart speakers. What's more convenient than pulling out your smartphone to dim the lights on movie night? Saying "dim the lights" and having a smart speaker linked to your smart lighting do it for you. These devices are used to control the other smart devices in your home, play music, answer your questions, shopping, set reminders, and much more.
---
Turning your home into the smart home has never been easier as there are tons of smart devices available in the market. What's your personal experience with smart home technology?