Solar - Solar Panel Installation - Step by Step
Are you ready to go solar? This means that you've done extensive research, decided that solar panelling is a good fit for your home and are looking for contractors to do the job. Like any home renovations, installing solar panels doesn't happen overnight – there's a process for what needs to happen to get your panels ready to begin powering your home. With solar panels placed, the happy homeowners will now save $2,250 on their electricity bills every year and break even on their investment in just five years. Now Let's see how you can prepare for the installation process.
---
Step-by-step process of a solar panel installation
Different installers sometimes have their own way of doing things, but will follow the same basic process
Site And Roof Assessment
Timeframe: 1-4 weeks
The first phase of any residential solar installation is the site assessment. Once you execute your solar contract, a technician will visit your home to understand its characteristics and make sure the solar design is customized for your unique energy needs. The contractors will carry out a detailed inspection of your premises, ensuring that your roof's pitch, orientation, aspect and strength are all within safe parameters. They'll review how much shade or direct sunlight the roof gets, and take note of the available surface area. If necessary, the contractors will work with you to address any issues that might hinder panel installation, like pruning trees nearby or making roofing repairs.
Permitting
Timeframe: 2-8 weeks
Your solar panel designs must now be submitted to your local government for permitting. The contractors will handle most, if not all, of the paperwork and the permit required for the solar panel system installation on your home. Regardless, it's always a good idea to know what's going on behind the scenes of your solar installation. It's important to make sure you obtain copies of the permits once available and keep them for your records. You'll also be able to apply for state and federal solar incentives such as the federal ITC, local solar programs, clean energy financing initiatives like PACE, government rebates and solar renewable energy certificates (SRECs). The installers will also be easing you with the paperwork process.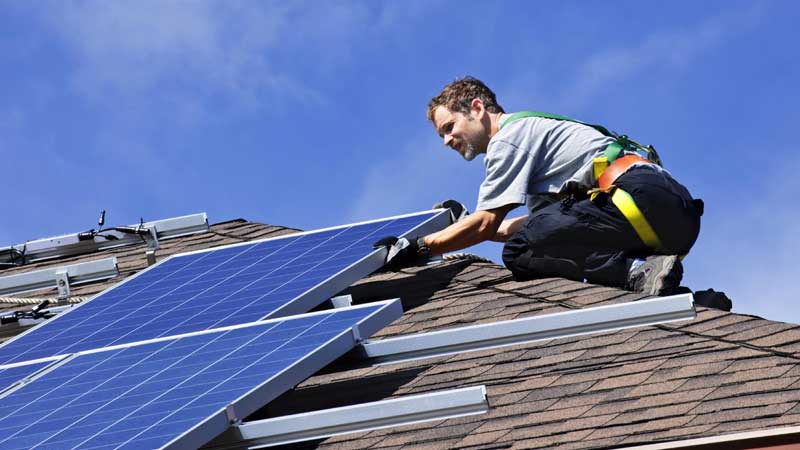 GET IN TOUCH WITH SOLAR EXPERTS
The Solar Panel Installation
Timeframe: 1-7 days
After receiving the approval, and your equipment arrives at the installer's headquarter, your contractors can begin work. The entire installation can take one to three days depending on the complexity of the design and your unique roof. The technicians often start by preparing your roof to ensure the tiles or shingles will be attached appropriately. Then, they put in electrical wiring that will connect to your electrical panel and general power system. The racking and panels will then be attached on the roof and finally, the inverter will be connected to the panels to convert direct current (DC) energy into the alternating current (AC) energy used in homes and on the electric grid.
Government Inspection
Timeframe: 1-4 weeks
Before you can connect your solar panels to the electric grid, a representative from your town government will need to inspect the system and give approval. Once your system passes this inspection, the utility company will put you on their schedule to install the net meter and connect your solar power system to the utility's main power grid.
Activation
Once your solar system is installed, you can sit back and enjoy the benefits of cleaner, cheaper and sustainable solar electricity in your home. Solar panel installation can be a long journey, but it's one that ends with a significant increase in home value.