What happens when the sun is barely visible through cloud cover, rain and even snow. If you're considering going solar, you might be wondering whether solar panels and snow are a bad combination. Of course, the output won't be as high as during those summer months where direct light is more frequent and extended, but you can still make your solar panels work for you even in the coldest of winter months. Plenty of people have both solar panels and snow, and some of the most popular regions in the U.S. for solar have snowy winters. On the contrary, our data has indicated that homeowners can often find the lowest quotes during winter months when competition is reduced.
---
Different installers sometimes have their own way of doing things, but will follow the same basic process
Do solar panels work in the winter?
We would think that solar panels do not work during winter, but interestingly, the white snow during winter could potentially improve PV performance. Winter will only hurt solar production if the panels are heavily coated with snow. For the most part, light snow will be quickly blown windblown, and heavier snow will side off as most panels are tilted. Even partially exposed exposed panels can effectively generate power.
What happens to solar panel performance in snow?
While you may generate slightly less power in the winter months, you can make up for it with sunshine in the summer. Solar panel snow problems are usually minimal. However, there are few things that you should know about the implications of winter weather as you consider installing a solar energy system on your home: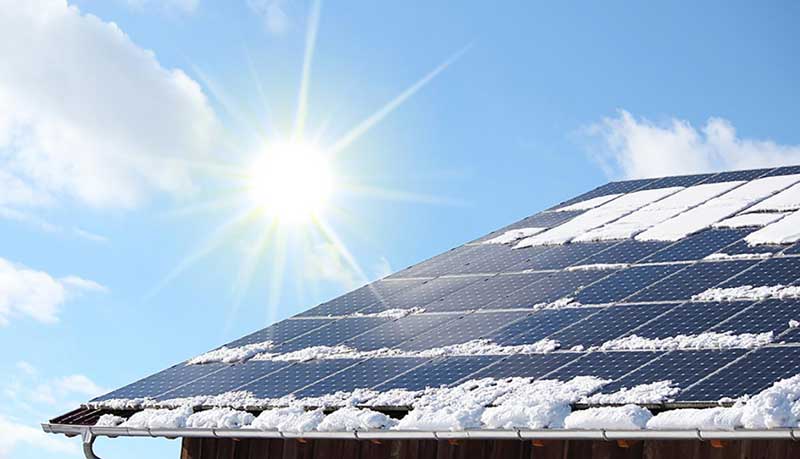 GET IN TOUCH WITH SOLAR EXPERTS
Solar panels can bear a certain amount of weight, and snow will usually not be heavy enough to cause any problematic issues
If snow covers your panels, they won't be able to produce energy but it would not be hard to clean it off. As the snow melts off, it even helps clean the panels, similar to the way snow melting on its own accord leaves windows clean, as any dirt on the glass washes away as the snow melts.
While solar panels do stop generating power if coated by heavy snow, even then overall yearly production is not substantially affected, and they remain a good investment in almost any U.S. region.
Solar Panels and Cold Weather States
Solar has no fear in frozen weather—on or off the grid. Today, solar panels are found not only in places that solar makes most sense, but the top states with the highest amount of solar installed in 2019 are Massachusetts, New Jersey and New York. The large percentage of solar installations coming during winter weather months, due to the high electricity prices. The higher your electricity rates, the more money you will save by going solar.