What is a Sun Number Score
There's a lot to consider when thinking about upgrading your home. Deciding on the details of an upgrade usually involves comparing costs, choosing contractors, reading reviews, and doing a ton of research. Going solar will save you money in the long run but is your house right for it? Luckily, Millions of Americans looking to buy a home have a new resource to help them go solar in the process. Thanks to a partnership between Solar Energy Technologies Office (SETO) awardee Sun Number and real estate company Zillow, homeowners and prospective buyers across the country can now quickly and easily access detailed information about a property's solar energy potential.
---
What is a Sun Number Score?
A Sun Number score is a rating from 1-100 that shows you, the homeowner or home-buyer, the potential for solar capabilities. The closer the score is to 100, the better suited your home is to have solar technology installed. Sun Number uses multiple datasets to analyze an individual home's solar potential, taking into account the angle of the roof, the direction the home is facing, the solar radiation potential of the roof, and local electricity rates. Sun Number Scores are available for 84 million American homes on Zillow, and over 110 million buildings in the United States have been scored on Sun Number's website.
How to Find SunNumber on a Zillow listing:
1. Go to a home listing on Zillow.com
2. Click "See More Facts and Features"
3. If listing is one of 84 million, SunNumber will be listed under "Utilities – Green Energy"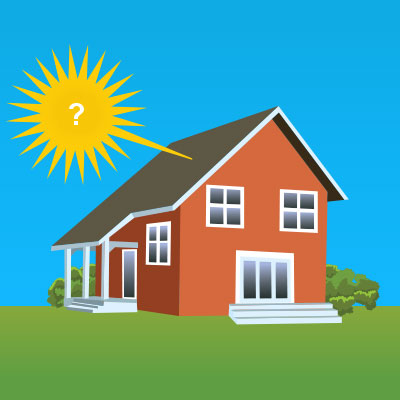 GET IN TOUCH WITH SOLAR EXPERTS
What if my Home is not Listed on Zillow?
If your home is not listed on Zillow or is not on the market, but you're still interested in finding out your Sun Number score, you have a few options.
You could contact a reputable solar installer in your area, ask them to visit your home and give you an estimate for both the cost of installing solar panels and how much money you will save on your electricity bills. If you're not quite ready to call a solar contractor but are still interested in your Sun Number score, it will take a little detective work on your part. esearch homes in your neighborhood that are listed on Zillow and look for their Sun Number score. Look for homes that are as similar to yours as possible—square footage, roof direction, the amount of tree shading, etc. While not exact, that will give you a good estimate of your Sun Number score.